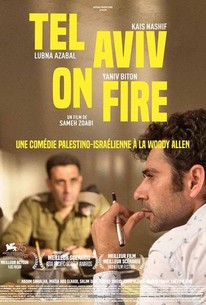 Tel Aviv on Fire
, directed by Sameh Zoabi, opened this week in Israeli movie theaters.
It has already garnered awards both in Israel and abroad.
The film is a superb satire about the absurdity of the Occupation, the humiliation of the checkpoints, and the chutzpah of some of the Israelis who try to make decisions for the Palestinians about what is best for them, especially IDF officers at the checkpoints.
Working for his uncle on a Palestinian soap opera, Salem has to drive regularly from Jerusalem to Ramallah to be on the set as a Hebrew dialogue consultant.
The soap opera is set on the background of the Six Day War of 1967 and is apparently popular with both Jewish Israeli and Palestinian Israeli audiences. The story is about a Palestinian woman terrorist/freedom fighter (depends on your point of view) who is assigned to seduce an Israeli general.
As Salem advances to become a scriptwriter for the TV series, we watch as he takes the story from real life and adapts it cleverly for the TV screen.
There is some romance – both in the story of the soap opera and in Salem's own life. Yet, the strongest parts of the film can be found in the political commentary (some of it not-so-subtle, in fact quite sharp and biting), especially in the comments of the uncle about the ongoing Occupation which controls so much of Palestinian daily life in East Jerusalem and the West Bank. In addition, the film has a brilliant ending, which I will not reveal here, but leaves the viewer with the realization that the struggle by Palestinians against the Occupation will continue until it is over.
The actors in this film are all excellent, especially the lead Palestinian actor, Kais Nashif, who plays his role as someone who is seemingly aimless and easily led by others. Things get a bit out of hand when Salem turns to the commanding officer at the checkpoint -- where he finds himself humiliated on a daily basis – for advice on the character of the 1967 Israeli general.
As a result, we find Salem caught between the checkpoint officer's view of things and his uncle's need for underlying messages supporting the Palestinian struggle.
The filmmaker, Sameh Zoabi, is a Palestinian Israeli, who grew up in Iksal, an Arab village in the Galilee, and lives both in the USA and Israel. In a feature article by Nirit Anderman about him which appeared in the Haaretz magazine in Hebrew and in the English Haaretz this week, he shared some of his thoughts about making this film.
When asked about his responsibility to his people as a director and screenwriter, he responded, "I try to create from a very personal place… We have a greater responsibility than Jewish Israelis because our narrative is not so well known."